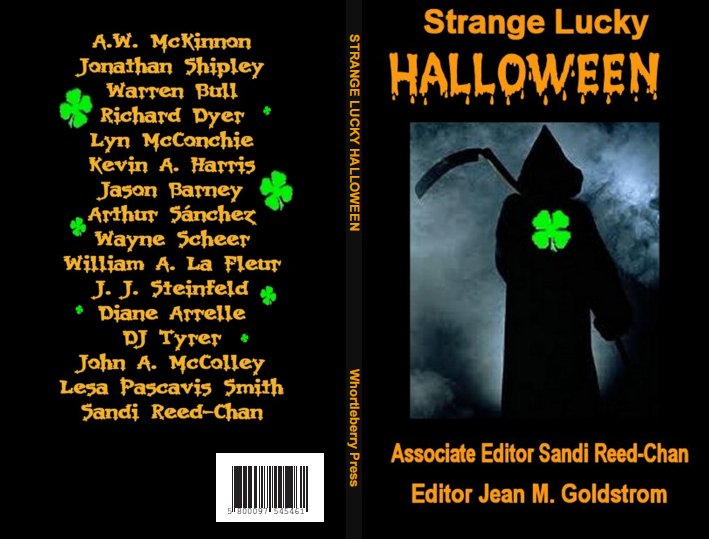 STRANGE LUCKY HALLOWEEN!
Strange Lucky Halloween brings 16 Halloween stories that range from laughter to screams -- sometimes both at once. To order click Here.
IT WAS A DARK AND
STORMY HALLOWEEN
Edited by Jean M. Goldstrom
Here's a jack-o-lantern-full of stories by the following haunting authors:
Barry Hunter, Janet Sever, Arthur Sanchez, Chris Bartholomew, Michael H. Hanson, Dennis Goldberg, Sherry F. Chancellor, Lyn McConchie,Deb Cawley, KC Shaw, Cindy D. Witherspoon, Clarise Samuels, Darlene A. Henderson, R. Bittner, Jamie Lackey, Jim Meirose, LB Goddard, Janett L. Grady, Steve Ford, Robert Essig, S.A. Monkress, Tom Sheehan, David Hughes, Dana Pearson, Karla Stover, Jessy Marie Roberts,Jessica Hutchison, Jenna Blair, Lucas Pederson, Tony Thorne MBE, Kelly A. Harmon, Jan Christensen, Marian Powell, Gayle Arrowood, Andy Echevarria, and Chuck Goldstrom.
To order click HERE.

Halloween Dances With The Dead
With stories by Ken Staley, Lyn McConchie, Sandi Reed-chan, Karen Reed-Dent, Anna Taborska, Abigail Beal, Lucas A. Turney, James Hartley, Marian Powell, Donna Novak, Janet Sever, Jack Owen, John J. Rust, Bruce Memblatt, Roxanne Dent, Dennis Goldberg, J. J. Steinfeld, Richard Dyer, Sherry Chancellor, Barry Hunter, and Cynthia D. Witherspoon.
To order click HERE.

STRANGE HALLOWEEN
IS HERE!
A full 21-story collection of fun, scary, wild, ghostly, monstrous Halloween stories -- some chills, some thrills! All fun.
Enjoy the work of: George Schaade, Jonathan Shipley, Terry Oparka, Jack Owen, Anna Taborska, Arthur Sanchez, Dana Bell, Dina Leacock, Richard Dyer, Barry R. Hunter, Richard Jay Goldstein, Lyn McConchie, Sherry Chancellor, Steve Shrott, Marian Powell, Bruce Memblatt, Carole Mertz, Connie Vigil Platt, Terry A. Branom, J.J.Steinfeld and M. Frank Darbe.

To order click HERE

HALLOWEEN HELL-O-WEEN!
Halloween Hell-o-ween -- in time for the underworld tour promised by its authors! The stories are by Barry Hunter, Sherry Chancellor, Arthur Sanchez, D.B. Reddick, James Hartley, J. J. Steinfeld, Keith G. Laufenberg, Chris Dean, Tony Thorne MBE, M. Frank Darbe, David Perlmutter, Jack Owen, Marian POwell, A.D. Spencer, Ken Staley, David Hughes, Sandi Reed-Chan, Alan Ira Gordon, Lyn McConchie and Richard Dyer. To obtain this "Howl-o-ween" book, just click HERE.